08 Dec

December 2016 Newsletter

Message from our Executive Director
Dear friends,
I hope you are enjoying the holiday season! I know that many of you are worried about the recent elections and wondering how our special places and species will survive the next Congress and Administration. I want to provide a message of hope.
First, we've seen this before. When the Bush Administration came in, we thought all our nation's environmental laws would be demolished. They weren't. If you were part of the environmental movement then like I was, you remember that this was because we put up a good fight and were a force to be reckoned with. Not on our watch was our motto!
We need this kind of feisty optimism again. We have incredible power when we work together. When it comes down to it, most Americans believe strongly in preserving our public lands and sensitive species that don't have a voice or pocketbook. We represent all that's good and beautiful, and a legacy for our children. Nobody can stop that.
There will be fights to protect the Endangered Species Act. Fights to keep our public lands public. Fights to protect natural resources from being over-exploited. But we will win, and we will do it as a team.
We will need to reach across the urban/rural divide and find the common values and love of place that we all share. We will need to continue working through our local collaborative groups in the forest, and directly on forest projects that government agencies may not have the funding or priority to do.
How can you help? Please take action when we send you opportunities to help stop the mine or protect the forest. Join us in the field as we lead restoration projects to improve forest health. And, please donate: https://cascadeforest.org/donate/. Groups like ours will need more staff and resources to accomplish what we'll need to do.
Thank you for your support. Have hope, take part, join together and conservation will prevail.
Happy Holidays!
– Matt Little
New huckleberry monitoring project in 2017
It has been an exciting year of restoration and data collection in the Gifford Pinchot National Forest. We've had the opportunity to meet many new stewards and work with new partners in our efforts to build stronger community connections and improve forest management in the region. We are now in the midst of planning next year's field season and we have some great new projects lined up!
We have recently received word that we will be partnering with the Pinchot Partners collaborative group to carry out post-management monitoring of huckleberry restoration sites. Huckleberry picking is an important activity for local communities and forest visitors. It is also a traditional harvesting activity for Native American groups, many of which take part in our forest collaborative process. Our work will entail taking measurements of huckleberry growth after Forest Service thinning work has been completed, as well as establishing photo points at future restoration sites. We will be measuring plant density and size, fruiting, disturbance, and regrowth of surrounding vegetation. Our work will be coupled with efforts of other collaborative members to identify which treatment approaches have been most effective and what areas are best suited to thinning treatments for huckleberry restoration. We will be reaching out to our members to help with the monitoring project, so please stay tuned!
We have also solidified plans for a large riparian restoration project. Cascade Forest Conservancy staff and volunteers will be planting hardwood and conifer trees along streams that are expected to warm with climate change. This work will support habitat for bull trout, steelhead, salmon, and other aquatic species. This is the first step of our comprehensive aquatic restoration plan. We will keep you updated as other parts of the plan are unveiled.
On November 3rd we celebrated the past year's successes and our historic name-change to the Cascade Forest Conservancy at the Columbia Sportswear store in downtown Portland. Thank you to everyone who attended and congratulations to our Volunteer of the Year, Michael Sulis, and the many auction winners! The night was a great success – we raised nearly $34,000 for our programs, like the campaign to stop a dangerous mine near Mount St. Helens. People took home rafting trips, sports apparel, artwork and all sorts of great items. We hope to see you at next year's event!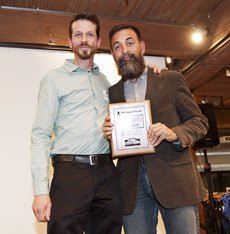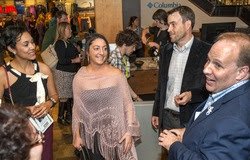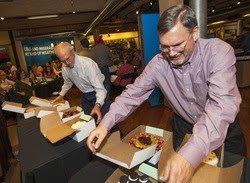 Profile: Mark Buchweitz, Canvass Team Manager
If someone had told me years ago that I would be going to people's homes and talking to them about protecting our environment, I would not have believed it. I'm a naturally shy person to begin with, and asking strangers for money is not something that comes naturally to me. But I came to the Northwest to experience the kind of wildlife, streams, mountains and forests that I'd only read about. My home state of Wisconsin has some beautiful forests, but 100 years ago we clear-cut all of our old-growth. When I saw my first old-growth forest it was hard to believe it was real. I couldn't believe that some people still wanted to cut old growth forests and turn healthy, diverse ecosystems into some sort of wood farm. I wanted to tell people not to make the same mistakes we made in the Midwest! So I decided to work for our forests, first as a canvasser and now as Canvass Team Manager for the CFC.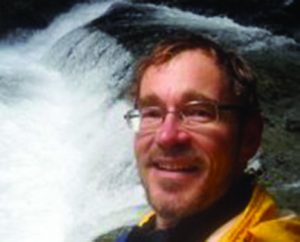 I feel privileged to be part of the Cascade Forest Conservancy's efforts to raise awareness and funds to protect the places that make the Northwest the envy of the rest of our country. Canvassing can be challenging at times, working in the cold, darkness and rain. But meeting so many supportive people makes the job very rewarding. In the challenging political climate we're about to face, it's good to know that you can still influence how our forest is managed. So when one of our canvassers comes to your door and interrupts your dinner and family time, please give them a minute to tell you how we're working to protect the places you treasure – and of course help us with a tax-deductible donation.
And if you can't donate, become a volunteer! Check out our website for opportunities. https://cascadeforest.org/get-involved/